Making life easier is always the goal of packagers. Zatarain, McCormick's consumer products division in the United States, has taken a step forward in this regard and is committed to providing consumers with the most convenient food. The company has developed new packaging for convenient rice products. Today, it has also launched a production line for the production of convenient rice packages containing meat without adding any seasonings.
Zatarain's Complete Meals Convenient Package (which also includes rice) is packaged in a 6.5 ounce vertical cooking bag. According to Laurie Harrsen of McCormick, this series of products has a 12-month warranty and can be eaten by simply heating in a microwave oven for 60 seconds. A high-sealing, non-aluminum foil bag contains a package (5 in total) including soft long-grain rice, red beans and meats such as sausages, condiments and vegetables. All of these have a strong New Orleans flavor.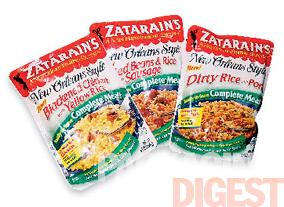 This package allows you to prepare a dinner or a hearty working lunch at your convenience without having to add any seasonings or take the time to prepare. Unlike other packed convenience foods, these bags have cutouts at the top that can be easily torn and heated directly in the microwave without the need for thawing like frozen foods. Obviously, the convenience, quickness, simplicity, and ready-to-eat characteristics of the package and the rich taste of the food itself will be favored by the convenience food market. The range of products includes sausages mixed with sausages and ham; sausage red bean rice; sausage okra cook tender chicken and yellow rice black pepper chicken.
Harrsen described this highly sealed package as a non-aluminum foil structure specifically designed for microwave heating. It contains two layers of oriented film, one layer made of polyester, the other made of polyamide, and a layer of polypropylene (PP) sealing film. She told the author that polyamide can effectively prevent bending fractures, while polypropylene (PP) can provide good sealability and can withstand the temperature and pressure accumulated during the de-heating process.
The suggested retail price for this new Zatarain Complete Meal package is $1.99 to $2.39. It is available at the rice counters at major food stores in the United States. The decoration on the disposable bag is similar to the Zatarain product packed in a carton box and the ready-to-eat rice bag. Harrsen pointed out that the suppliers of bags and other related information belong to the patent scope. However, cooking bag packaging seems to be increasingly favored by a wide range of food and consumer packagers.
Source: Packaging Expo

Our Hair Clippers have good ceramic knife head, hard texture, long service life, anti-rusted, good sharpness, only slightly sound, extremely low noise. Good-looking appearance, light weight, flexible and labor-saving operation, low vibration and low noise. We are confident that we are able to supply warranted quality products with best price.
Household Hair Clipper,Small Rechargeable Hair Clipper,Household Professional Hair Clipper,Barber Razor Hair Clipper
Gold Beauty Limited. , http://www.goldbeautyltd.com